On June 19-20, 2022, the Sake Fair – organized by the Sake and Shochu Makers Association- was held for the first time in three years. The tickets for the general public were sold out early, indicating that sake fans were eagerly awaiting the event. 340 sake breweries were represented, and it attracted 2,793 visitors.
The sake industry has suffered greatly over the past two years. In 2020, shipments to the domestic market totaled 48.4 million cases (8.64 liters), down 10.4% from the previous year. Even in 2021, when many categories such as Champagne recovered their numbers, the figure was 46.75 million cases, down 3.5% from 2020. The decline of sales of 1800 ml sake bottles in off-premise was particularly severe, losing a whopping 11 billion yen in two years, from 49 billion yen in 2019 to only 38 billion yen in 2021.
The sake industry did not sit idly by during this period. We spoke with three people from exhibitors at the Sake Fair about their activities during this pandemic.
Miwa Sake Brewery, a nigori sake specialist famous for its Shirakawa-go brand, is one of the breweries that has done the most to communicate with consumers online during the pandemic.
According to its president Kenji Miwa, it is becoming popular for consumers to add something to nigori sake according to their own taste, and he has devised ways to drink nigori with black pepper or with sansho (a Japanese pepper). In addition, since 2 is pronounced "Ni" and 5 is pronounced "Go" in Japanese, February 5 was designated as "Nigori Day" and some promotional activities were started in 2020, and the promotion of nigori sake was held in collaboration with other breweries in this year.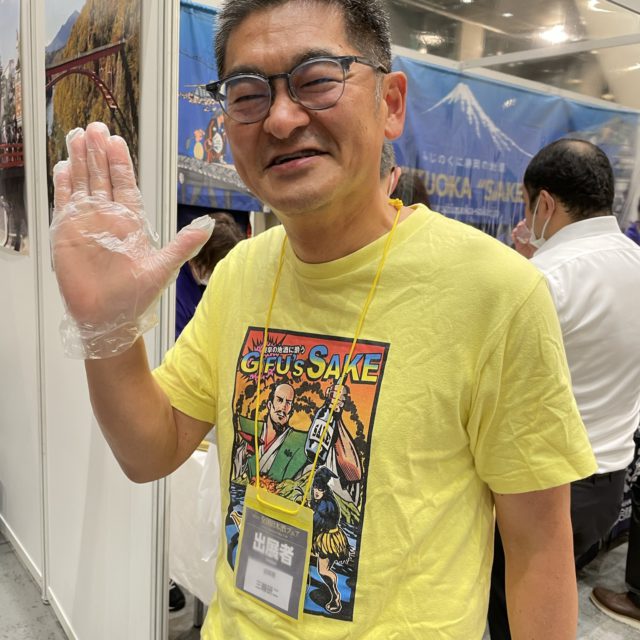 Sake is not regularly purchased by consumers, especially those in their 20s. This, combined with low awareness of the eight subdivided categories of sake, has raised the purchase barrier for the average consumer. The promotion above mentioned may seem frivolous to professionals, but it may be enough to trigger purchases for ordinary consumers. A Chilean winery mentioned that a Chilean wine called 1865 is popular at golf courses in Korea, and the reason is that the number of purchasers has increased due to the idea of being able to turn 18 holes in 65 shots. This shows how important it is to provide consumers with an easy reason to purchase a product, especially in a category where it is difficult to make a choice.
According to Mr. Masataka Mochizuki, chairman of the Shizuoka Sake Brewers Association, Shizuoka Prefecture has used the pandemic to prepare an application for Geographic Indication (GI) registration (recently submitted). Shizuoka Prefecture has historically been known as the "Ginjo Kingdom" because most of the breweries in the prefecture use Shizuoka yeast, which is famous for its isoamyl acetate aroma (with a characteristic banana aroma). Thanks to Shizuoka yeast, Shizuoka sake using it has a diversity of flavors,  but can be categorized in a specific tasting segment. Since the use of Shizuoka yeast (even blended with other yeasts) is a condition for claiming GI Shizuoka, GI can be said to be directly related to sake quality. If the application is approved, it will become a valuable GI that makes it easy for consumers to understand the taste (and influence purchasing).
Finally, we spoke with Mr. Kenji Suzuki, an advisor to the sake brewers' association in Fukushima Prefecture. This region has suffered from harmful rumors since the Great East Japan Earthquake (the "Fukushima earthquake") yet has become the prefecture that has produced the most number of gold medal-winning items in the National New Sake Competition for nine consecutive years. Even before the Corona disaster, Fukushima Prefecture had experienced a period of reputational damage, especially with regard to overseas exports, where shipments were sluggish even when proof of zero radioactive contamination was submitted. During this time, Fukushima Prefecture has shifted from a strategy of continuing to communicate the fact that the sake produced there is not contaminated by radiation to a strategy of producing delicious sake and raising awareness of the reputation of delicious sake. The Sake Brewers' Academy, sponsored by the sake brewers' association of Fukushima, has stimulated information-sharing and friendly competition among young brewers, leading to increased awareness and skill development among veteran toji (master brewers), and the people of the prefecture have been giving strong support to the breweries since the prefecture became the most awarded prefecture for five consecutive years. Today, the reputation of Fukushima sake is growing.
Many sake breweries have lost customers and clients in the wake of the Corona pandemic, but those breweries and regions that have continued their activities with an eye toward the end of this disaster are sure to reap the fruits of their labor in FY2022. Sake exports will surpass 40 billion yen in 2021, a record high for the 12th consecutive year. RTD is a category among Japanese alcohols that continues to grow its domestic share despite the declining birthrate and aging population. As sake is increasingly popular overseas, the next step is to regain its position in Japan, and the activities of these breweries and regions exhibited at the Sake Fair may provide hints for future activities.